ARKTOS Products have been certified in Ukraine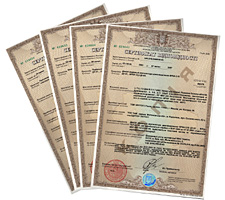 The State Committee on Technical Regulations and Consumer Policy of Ukraine has certified fire safety equipment by a leading Russian manufacturer, ARKTOS Company. Ukrainian Certificate was granted for OKS-1 Fire Damper (with fire-endurance 2 hours at 600°C), DKS Smoke-extraction Damper (with fire-endurance 1,5 hours at 600°C), VRS Series Smoke-extraction Radial Fans (with fire-endurance 2 hours at 600°C) and VRKA Series Smoke-extraction Roof Radial Fans (with fire-endurance 2 hours at 600°C).
The Ukrainian experts' appreciation acknowledged ARKTOS products conformity with European standards and the high quality of the Russian manufacturer's products.
New Air Curtains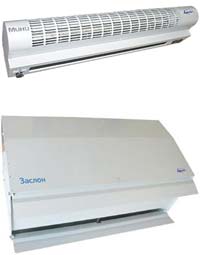 An air curtain installation is the most ordinary way to save energy, but, taking into account a heavy deficit of space in small rooms, it is sometimes impossible. This problem can easily be solved by MINI air curtains, ARKTOS has started to produce recently.
"Diminitive" dimensions of MINI permit it to be effective operating at 2 meters height and reducing heat loss for 70-80%. Built-in fan speed and heating capacity switches make it possible to select necessary operation mode, and integrated thermostat is provided for keeping the preset temperature. In summer period when running in "no-heating" mode, MINI air curtain prevent excessive outdoor heat penetration into air-conditioned rooms and protect them from exhaust gases, insects and dust. Owing to its up-to-date design, this air curtain will blend with any kind of interior, whether it is industrial, administrative or living room.

ZASLON ("Screen") air curtains have become another innovation of ARKTOS. These air curtains are capable to be installed both horizontally and vertically in rooms having up to 6 meters height and width. The airflow makes effective protection even at fully wide open doors or gates. The effect will be even stronger when you use adjustable louvers, which permit to change air stream direction. The air curtains can optionally be supplied with remote control units to change airflow. One control unit is capable to control several air curtains.

CLASSIC Series of air curtains has been extended with CLASSIC B unit using water heater as a source of heating, which can find the most effective application in the rooms with insufficient quantity of alloted electric energy, when the main load is upon central and local heating.

All ARKTOS air curtains are being manufactured in conformity with Quality Management ISO 9001: 2000 and meet all Russian regulations and European standards.
KREPYSH ("Sturdy") and GOLFSTREAM Ensure Warmth and Comfort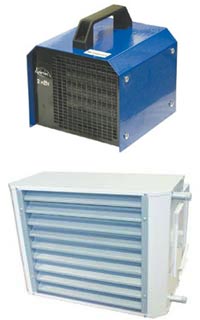 ARKTOS Company keeps on expanding heating equipment range. In addition to the well-known TEV Series fan heaters, the factory has launched a serial production of KREPYSH fan heaters and GOLFSTREAM water coil fan heaters.

KREPYSH is equipped with ceramic heating elements of 2 kW or 4 kW power and has compact dimensions, which make it indispensable in dacha and home conditions, useful for quick heating of garage or workshop, warehouse or stores, in humid or wet rooms. Their field application does not require special environment or wirings but just a regular electric power supply.

GOLFSTREAM water coil fan heaters will bring warm air into the rooms with insufficient quantity of alloted electric energy, when the main load is upon central and local heating. GOLFSTREAM allows significant cost saving of energy necessary for the room heating. The fans can be mounted in both vertical and horizontal position, and special bracket makes it possible to install the unit at a needed angle. The fan heater is designed to adjust air stream by using a built-in rotating grille; optionally, the unit is available with a grille with vertical blades to adjust the air stream directions in horizontal plane.

Low noise level of KREPYSH and GOLFSTREAM fan heaters provides a comfortable performance and meets all Russian regulations and European standards.
NEW SMOKE-EXTRACTION FANS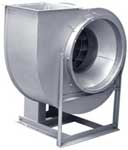 Within the program of further expansion of smoke-extraction fan range, ARKTOS Company have developed the new series of radial fans VRS.
The fans are intended for fire safety ventilation systems of industrial, public, administrative and living buildings, except of A and B categories of NPB 105-95 Fire Safety Regulations. VRS fans have passed tests in Fire Safety Research Institute (VNIIPO) and were granted with Fire Safety Certificate. Their fire endurance is not less than 2 hours at 400°C and not less than 2 hours 600°C.
VRS fans are equipped with standard asynchronous motor with short-circuited rotor and backward-curved impeller. The impeller diameters are available from 315 mm to 1250 mm and motor powers from 1,5 kW to 30 kW. The fan body, impeller and the frame of VRS fans are made of carbon steel with special heatproof organosilicon plating.
The fan efficiency at high temperature of media is achieved owing to a special configuration permitting to minimize heat transfer to the motor shaft.
The new series of radial fans VRS in combination with VRKA-series roof smoke-extraction fans will allow you to be flexible to design smoke-extraction systems considering specific features of your projects.
NEW AIR DISTRIBUTION PANEL 1VPT/1VPTR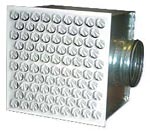 ARKTOS developed a new panel grille for swirling supply air jets. Turbulizing 1VPT/1VPTR air distribution panels consist of numerous air-spray cells positioned in one flat surface, and a static pressure chamber.
The panels are manufactured with either side or end inlet. Airflow can be regulated by a control device additionally installed in a static pressure chamber nipple of 1VPTR.
The panel design also permit to regulate direction and aerodynamic features of supply air by turning the plastic cells, without changing the air volume, pressure drop or noise level. Independent turning of the cells within the flat surface of the panel allows getting a big variety of supply air flows, from single-sided to radial horizontally and swirled vertically.
The panels are intended for ceiling and wall installation. In case of suspended ceiling installation, just the panel itself with the cells is visible, and the static pressure chamber is hidden behind the ceiling.
The front panel is powder-coating painted white (RAL 9016) and has become an attractive compliment to the factory's grilles and diffusers range.
Here you can find a Technical Description for VPT air distribution panel.
New Air Valves DPU-M and DPU-K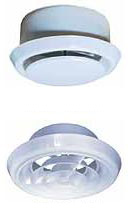 ARKTOS has launched into serial production new universal plastic air valves DRU-M and DPU-K series, which have replaced obsolete DPU series. The advantage of the new range is improved aerodynamic values, as a result of change in product design. Threaded connection is used between branch pipe and cowling, which noticeably simplifies air valves mounting.
DPU-M air valves form a spreading fan blast and they have approximately 3 times less resistance, than DPU air valves.
DPU-M includes: casing, connection pipe and flexible cowling. DPU-M air valve can be used as a stop valve, when the whole ventilation system or its section is shut off.
DPU-K air valves distinguishes itself by absolutely new cowling design, manufactured as flexible fan connection of several rings, mounted stationary relatively to each other. Such design of cowling makes it possible to change blast direction and shape from fan horizontal to vertical interlocking conic one. It helps to set seasonal control of ventilation and air-conditioning systems. DPU-K resistance is approximately 5 times less in comparison with DPU.
World of Climate - 2005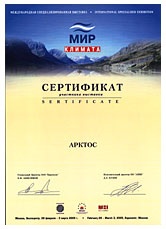 The first professional exhibition "World of Climate - 2005" took place in ExpoCenter at Krasnaya Presnya on the 28th of February-3rd of March. At ARKTOS both among its famous products and such new products, as panel air distribution equipment, a book by Mikhail I. Grimitlin "Room Air Distribution" was exhibited.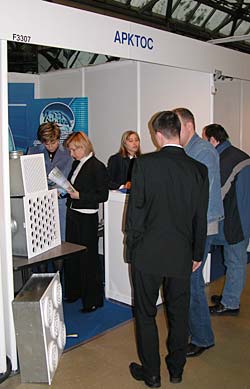 Scientific basis and engineering methods of selection, up-to-date solutions and examples of calculation of supply air distribution systems in ventilated and conditioned both in industrial and public buildings are expounded in this book. Mikhail Grimitlin's works are widely famous, and steady growth of audience employing them in practice affirms actuality of the book. Series of researches, devoted to resolution of air distribution problems in building, machinery, shipbuilding, radio and electronic industries was conducted under his supervision.
    In addition to participation in the exhibition we took part in symposium, "Modern Climate Equipment" section, where all the visitors could listen to the report "New Developments of ARKTOS Co." by A. Vodolagina, the research laboratory of aerodynamics and acoustics expert. A detailed air-distributors technical catalogue with a universal calculation chart was available at ARKTOS booth, as an addition to the report.
VRKA ROOF SMOKE-EXTRACTION FANS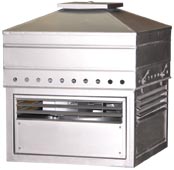 We are proud to announce production of VRKA-series roof smoke-extraction fans.
    The fans are to be used in fire safety ventilation systems of industrial, public, administrative and living buildings, except of A and B categories of NPB 105-95 Fire Safety Regulations. VRKA fans have passed tests in Fire Safety Research Institute (VNIIPO) and were granted Conformity Certificate and Fire Safety Certificate with their fire endurance not less than 2 hours at 400°C and not less than 2 hours 600°C.
    The VRKA fans are available within the range of 3,15 - 12,5. The fan is equipped with impeller of 12 backward-curved steel blades and has steel casing with weather-proof coating.
    At up to 76.000 m3/h capacity, VRKA smoke-extraction fans still have low energy consumption and low noise level. They are easy to mount on the roof, which reduces time for installation, and their design will match any architectural shape.
BATIMAT -2004. "The Baltic Construction Week"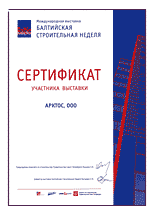 ARKTOS products have already been exhibited at various professional fairs many times before, and "The Baltic Construction Week" was not an exception. This exhibition is one of the biggest construction shows of St. Petersburg, which was held on the 14-17th of September in "LenExpo" (Gavan) exhibition centre.
There were a lot of new products within the range ARKTOS showed at their booth. Those are the new series of air curtains, static pressure chambers, as well as such new developments as duct rotary heat exchangers, which are practically unique on the ventilation equipment market. It is worth to underline that this new equipment roused great interest among the specialists from installation, design and construction companies, and received favorable reviews on the quality and design advantages of ARKTOS products.
KVK Air Damper

ARKTOS is happy to announce the production launch of KVK air dampers for circular ducts. The damper is made of galvanized sheet steel, equipped with rubber seals and is easily aligned with standard air ducts and other elements of a ventilation system. Rigid design of the damper prevents noise generation, and the seal ring provides airtightness of the damper in closed position. Standard KVK is equipped with a hand drive handle. Easily installed plate for Polar Bear electromechanical actuators can be supplied optionally.
Air Curtains


Within the frames of heating equipment production program, ARKTOS declares that the fan heater range is supplemented with air curtains. They have always been an integral part of ventilation and air conditioning systems. This year ARKTOS launched output of four air curtain sizes with one meter length and 0-3-6-9 kW heating capacity.
ISO Certification


ARKTOS factory has produced ventilation equipment for already 5 years. From its very birthday the factory focused on manufacturing of high-quality products. After it has succeeded in implementing the task, and longing to get an official acknowledgement of the product high level, ARKTOS started striving for certification procedures according to ISO 9000 International Standard.
In 2003 the grade of ARKTOS development and production of ventilation, heating and air conditioning equipment has successfully passed inspection in accordance with ISO 9001:2000 Quality Management System.
The certification was conducted by "Russian Register" Association, the member of International Association of Classification Societies having among its members such organizations as Lloyds, Veritas Bureau, German Lloyds, the US Navigation Bureau and others.
After this international recognition, ARKTOS keeps on upgrading of its production capabilities and has no intention to rest on the laurels, raising the "bar of quality" even higher to meet at full extent the requirements of the most exacting customers - users of ventilation equipment.
New Diffusers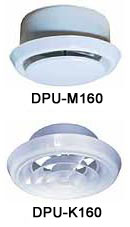 The range of DPU diffusers has recently been replenished with new models - DPU-M160 and DPU-K160.
Unlike previous model, DPU-M160 and DPU-K160 are equipped with a threaded connection permitting easier installation. In addition, effective cross-section of the diffuser was increased.
DPU-M160 forms spreading radial air stream with 3 times lower resistance than DPU.
One of the most distinctive features of DPU-K160 is the dome configuration developed as a movable radial pattern of several rings fixed motionless regarding each other. Such a layout permits changing the flow direction and shape, from radial to vertically closing-up cone, which make it possible to seasonally control ventilation and air-conditioning systems.
DPU-K160 has even lower resistance, which is 5 times less than DPU has.
New RSN and RSR Grilles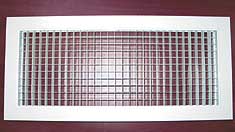 RSN honeycomb grille is intended for installation on air exhaust duct outlets within ventilation systems.
Structurally, RSN constitutes square "honeycombs" fixed inside a frame. This configuration permits high factor of effective cross-section (0,93) and low local resistance, which improve noise data and decrease fan energy consumption.
RSR is another version of this grille, which is equipped with an airflow switch.
This new series of air grilles is marketed in expanded range of types and versions and intended to find a wide application when designing ventilation systems.
Similar to other air grille types, the honeycomb grilles are supplied white as standard, though optionally they can be painted in any of 256 RAL color.
TEV Fan Heaters

We have another new product range, a series of TEV fan heaters with capacity from 3 to 15 kW.
The fan heaters are to be used in different humidity level environment - at construction sites for drying, heating and defrosting, in industrial facilities for temporary and continuous heating of workstations, in warehouses, stores, houses, garages or cottages, workshops, farms, etc.
All the models are equipped with safety thermostats to protect the unit from overheating and regulating thermostat to keep up the required temperature.
TEV fan heaters are remarkable due to their reliability and corrosion-proof features.
"PURGA" ("Blizzard") Control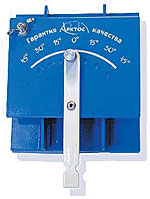 In order to simplify the adjustment process of ventilation and air-conditioning systems with air grilles, our designers developed a "Purga" control permitting their regulation. This device is intended for rotating and fixation of air grilles at required angle, and can be used for with one- or two-row rotation blades.
New Air Grilles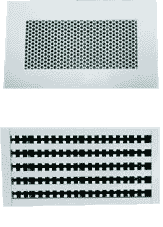 ARKTOS Company keeps on developing in up-tempo and has again expanded the air grille range.
This time the range has been enriched with perforated and slot air grilles.
Perforated grilles are produced in the following sizes:
- 100 - 1200 mm width
- 100 - 1200 mm length
They are supplied with airflow switch (PRR type) and without it (PRN type). The grilles can be used as an ornamental panel, in heating systems, fireplace ducts, etc.
Slot air grilles are supplied with different number of air distribution slots, from 1 to 6. Available length is 500 - 1800 mm. The grilles are divided into two types: w/ regulating blades (ARS type) and w/o blades (ALS type). All the types are equipped with airflow switch.
The grilles can find application in swimming pools, heating systems as an ornamental panel, as a "camouflage" element of interior, etc.
As usual, the quality and technical features of the new products remain at the highest level. ARKTOS also took care of a very wide choice of sizes, so every customer will sure find in it what is necessary to solve his problems.
It shall be noted that ARKTOS was the first in Russia who launched production of the slot air grilles, and, doing so, has proved its leadership in the field of air distribution systems manufacturing.
You can find more detailed technical information in next issues of "ARKTIKA SNiP". Follow our publications.
Return Air Valve


OVK return valves have found a fitting place within ARKTOS product range. They constitute galvanized sheet steel enclosures with connection flanges for circular airducts. The connection flanges are equipped with sealing rubber rings. The return valve with inertial louvers has lower resistance and operates perfectly even within low-pressure systems. The available valve diameters are 100 - 400 mm.
New Filters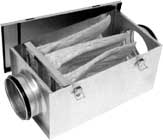 ARKTOS Company has launched production of FLF filter boxes. Their casing is made of galvanized sheet steel and equipped with a cover with latches to simplify maintenance. FLF is connected to the airducts through sealing rubber rings. The rings are intended for better airtightness. EU3, EU5 or EU7 Class pocket filters can be fitted inside the box.
The Filter Boxes are available in 100 - 400 mm diameter.
The packaging for PV ducts has become more solid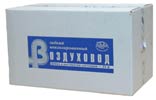 ARKTOS has launched deliveries of semi-rigid PV airducts in new packaging. Originally the ducts were packaged in polyethylene bags, but now the bags have been replaced with cardboard.
Solid cardboard box provides better protection from mechanical damages during transportation and, besides, is an additional convenience at truck loading and stacking of the products.